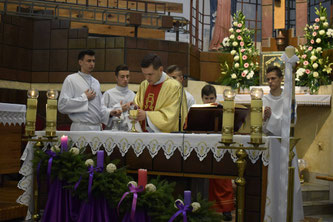 W XV wieku św. Mikołaj był jednym z najbardziej znanych i czczonych świętych. To wtedy też powstała nasza parafia i przybrała wezwanie św. Mikołaja. Kim więc był ten święty znany szczególnie z wielkiej hojności i dobroci?
Podczas sumy odpustowej, która odbyła się 9 grudnia o 11:00, celebrans oraz kaznodzieja – ks. Tomasz Bąk – pięknie opisał naszego patrona.
Mikołaj urodził się na terenie dzisiejszej Turcji. Żył w III wieku, w czasach niełatwych ze względu na epidemie (w których stracił oboje swoich rodziców) oraz prześladowania. Jako młody chłopak chciał zostać księdzem, a później biskupem Miry. Sami rodzice poświęcili go na służbę Bogu. Podczas prześladowań przez 8 lat był więziony i torturowany. Ludzie nazywali go zwycięzcą ludu, gdyż nie złamał się i nie przestał wierzyć w Boga. Otaczali go jeszcze większym szacunkiem. Jako biskup bardzo chętnie pomagał ubogim, jednak w taki sposób, aby nikt nie wiedział, że to on to robi, a Bóg. Zmarł 6 grudnia.
Ks. Tomasz w swoim kazaniu wytłumaczył także podwójny charakter Adwentu: przygotowanie się do świąt Bożego Narodzenia oraz drugi – przygotowanie się do paruzji, czyli powtórnego przyjścia Chrystusa na końcu czasów. Układ czytań w Adwencie też nie jest przypadkowy: w pierwszym czytaniu słyszymy zazwyczaj zapowiedź zbawienia, cudów; w Ewangelii natomiast – wypełnianie się słów proroka: Jezus przychodzi, Jezus uzdrawia, Jezus odpuszcza grzechy, Jezus zbawia.
Św. Mikołaju, módl się za nami!