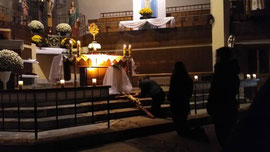 Jezus jest moim Panem!
Jezus jest moim Stworzycielem!
Jezus jest moim Zbawicielem!
Jezus jest moim Bogiem!
Dzisiaj od 19:00 zarówno młodzież jak i starsi uczestniczyli w wyjątkowej Adoracji przed Uroczystością Jezusa Chrystusa Króla Wszechświata. Uznanie Jezusa za swojego Pana i Zbawcę, za Króla swego życia, to bardzo ważna decyzja w życiu człowieka, szczególnie tego młodego!
A czy ja także jestem w stanie to zrobić?