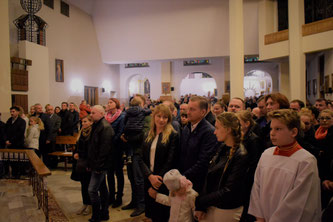 "Czcigodni Małżonkowie! (...) Jesteście faktycznie bardzo mocno wyróżnieni przez Boga!" - tymi oto słowami rozpoczął już kolejne kazanie nasz misjonarz, ks. Zygmunt Tokarz MS. Wspomniał, że małżeństwo jest jedynym sakramentem, którego udzielają sobie nawzajem małżonkowie, a kapłan tylko potwierdza ważność tego sakramentu.
W dalszej części kaznodzieja mówił o problemach w małżeństwie oraz o tym, co jest fundamentem rodziny. "Miłość to nie połączenie dwóch ciał, ale dwóch dusz! (...) Kocha się wnętrze człowieka! (...) Czynienie dobra dla drugiej osoby - to jest miłość! (...) Trzeba złożyć z siebie ofiarę drugiej osobie!" - przypomniał kapłan. Nawiązał także do relacji między Jezusem a Kościołem, która stanowi pewien wzór małżeństwa i przypomniał [kapłan] zebranym, że Jezus kocha bez warunków. I złożył z siebie ofiarę dla dobra wszystkich ludzi, dla dobra całego Kościoła, a więc także dla dobra pojedynczego człowieka. Ostatecznym dobrem jest życie z Bogiem w wieczności!
Kaznodzieja przedstawił także kilka zagrożeń dla małżeństwa: kłamstwo, brak przebaczenia, zdrada. Mówił także, że rodzina cierpi wtedy, gdy: nie ma w niej Boga; gdy małżonkowie się rozwodzą; gdy pojawia się alkohol.
Trzeba budować mądrze małżeństwo! Nie budować na piasku, czyli na emocjach, pieniądzach, przyjemnościach! Należy budować na skale: budować na Chrystusie, na wzajemnej modlitwie, na wzajemnym patrzeniu na Boga!
W czasie dzisiejszej Mszy Świętej odbyło się także odnowienie przyrzeczeń małżeńskich.