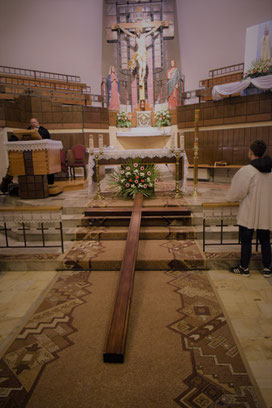 We wczorajszej Drodze Krzyżowej, która przeszła ulicami naszej parafii, uczestniczyło ponad 600 osób. Po przebyciu tej drogi, do kościoła parafialnego został wniesiony Krzyż Misyjny - Ołtarz Wielkiego Piątku, który aż do soboty można adorować.
Dzień dzisiejszy był dniem szczególnej łaski, dniem pokuty i pojednania z Bogiem. Nasz misjonarz podczas wieczornej Mszy Świętej w swoim kazaniu nawiązywał do życia wiecznego, które jest właśnie łaską, darem Bożym. "Jeżeli za życia [ziemskiego] opowiadam się za Chrystusem, to po śmierci opowiem się za Nim". Kaznodzieja mówił także o zmarłych: "Nasi najmilsi (...) nie umarli, bo w grobach są tylko ciała, a człowiek to przede wszystkim dusza!". Dalej mówił też, że po ludzku śmierć bliskich boli, ale trzeba na śmierć patrzeć przez pryzmat wiary. "Ufamy, że te serca [zmarłych] biją innym rytmem" - zmarli są teraz pełni miłości i szczęścia, które otrzymują od Boga.
Ks. Zygmunt powiedział także ważne słowa: "MIŁOŚĆ CHRYSTUSA NA KRZYŻU - SILNIEJSZA NIŻ ŚMIERĆ" oraz: "WIARA WYMAGA MODLITWY ZA ZMARŁYCH"!
"Wierząc w zmartwychwstanie wasze [zmarłych] i nasze [żyjących] (...), mówimy: do zobaczenia w niebie! AMEN!" - skończył kazanie misjonarz.
Po Mszy nastąpiło procesyjne przejście na cmentarz parafialny, na którym modlono się zmarłych oraz poświęcono Pomnik Dzieci Straconych.