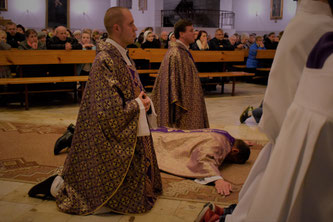 "Na Krzyżu Chrystus wił się z bólu, tam dokonał zbawienia świata" - te słowa można było usłyszeć na początku kazania wygłoszonego przez misjonarza - ks. Zygmunta Tokarza MS.
Kaznodzieja przytoczył także słowa św. Jana Pawła II, które padły w 2002 r. na Krakowskich Błoniach podczas ostatniej jego pielgrzymki do Ojczyzny: "Współczesny człowiek żyje tak, jakby Bóg nie istniał!". Dalej wyjaśniał znaczenie tych słów.
Głównym temat kazania stało się hasło: "Grzechem ranię Boga i Człowieka!". Ileż w tym prawdy! Często zamieniamy słowo "grzech" na inne: słabość, niedoskonałość... Tymczasem grzech jest brakiem wdzięczności wobec Boga, jest aktem wolności, jest świadomym i dobrowolnym przekroczeniem przykazań i wreszcie jest aktem SAMOWOLI - nie liczy się drugi człowiek, liczę się ja!
Grzech nie istnieje w relacji ja - prawo, ale w relacji ja - Bóg! W Psalmie 51 czytamy: "Przeciwko Tobie samemu zgrzeszyłem i uczyniłem, co złe jest przed Tobą!". "Grzech to zamach na miłość Boga, na świętość Boga" - powiedział kapłan. Przytoczył też słowa św. o. Pio: "Grzech jest największą głupotą człowieka!".
Maryja potępia grzechy języka, np: kłamstwo, oszczerstwo, plotkę, przekleństwo, pochlebstwo, półprawdę. "Odpowiedzialność za słowo, to odpowiedzialność za drugiego człowieka". - rzekł kaznodzieja.
Na koniec ponownie przytoczył słowa Papieża Polaka: "Człowiek jest powołany do zwycięstwa w Jezusie Chrystusie. (...) Zwycięstwo takie oznacza życie w prawdzie!".
Po kazaniu nastąpiło nabożeństwo przebłagalne.