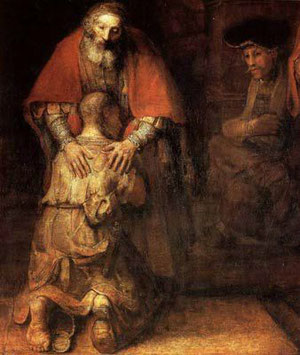 "Czy potrzebuję nawrócenia?" - tak brzmiało hasło 3. dnia Misji Świętych.
Proste pytanie, ale trudna odpowiedź. Niech ta chwila będzie chwilą refleksji... Czy potrzebuję nawrócenia?
Ks. Zygmunt Tokarz MS - nasz misjonarz - podczas dzisiejszego spotkania z młodzieżą przywołał znaną postać syna marnotrawnego. Zapytał, czy jest to osoba pozytywna. Zabrzmiała odpowiedź: "tak".
Dlaczego "tak"?
Bo się nawrócił.
A z czego wynikało to nawrócenie?
Bo doznał nędzy, zrozumiał swój błąd i wrócił do ojca.
Tylko?
Nie! On jeszcze PRZYZNAŁ SIĘ DO WINY!