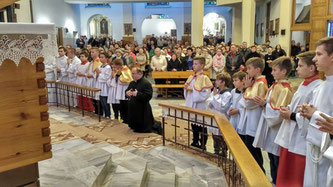 W sobotę 07.10. rozpoczęły się Misje Święte w naszej parafii. Mszę Świętą rozpoczynającą ten święty czas poprzedził różaniec oraz obrzęd wprowadzenia misjonarza do świątyni.
W swoim kazaniu, ksiądz misjonarz podkreślił: "wyszliśmy z rąk Boga jako najdoskonalsze stworzenie (...), bo żadne inne nie ma duszy nieśmiertelnej". Zadał też pytanie, czy jesteśmy prawdziwym obrazem Boga, a może jednak tylko jego karykaturą?
Kaznodzieja mówił także o zaufaniu, modlitwie oraz o miłości. Podkreślił, że to Maryja uczy zaufania oraz że trudno dostrzec piękno Bożej twarzy w kimś, kto jest egoistycznym, pysznym, gniewnym człowiekiem... "Ciemna jest twarz człowieka, kiedy nie pada na nią światło twarzy Boga" - powiedział misjonarz. I dalej: "Nam potrzeba trwania na tej modlitwie [różańcowej - przyp. red.] razem (...). Musimy stawić czoła (...) obojętności, nienawiści". Na homilii padły także ważne słowa, że nie nienawidzi ten, kto nie dostrzega wielkości Boga w człowieku.
"Trzymajcie się różańca! (...) Jeżeli Matka nas nie obroni, to co się z nami stanie?"